oh no .... I have popped my kiln open and some bisque firing awaited me. I can actually feel why they call it that now.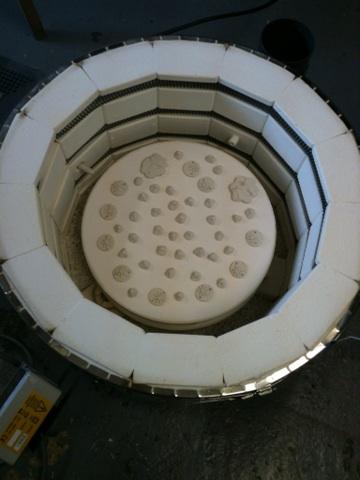 Next once they have sat to completely cool down I will start glazing them. I also need to urgently make some more now I have the hang of it, especially as the drying time is about a week before first firing.
The only things that didn't turn out too well were the couple of moulds I made from leaves etc. They weren't very well executed in the first place, so it isn't any wonder that they failed. My little dish on the other hand turned out quite well, I am looking forward to it being glazed.
I was hoping to get a bead rack today, but the clay supplier isn't open until tomorrow. So I will hop over there and buy myself one when they open and maybe a couple of stilts (apparently they are used if you want to glaze the bottom of something that doesn't have a hole - who knew?).
At the moment I'm starting to process our orders, but am hoping to get a bit of clay/crafting time later on.
Happy Monday.
Hugs
Kay