well, seven of them.....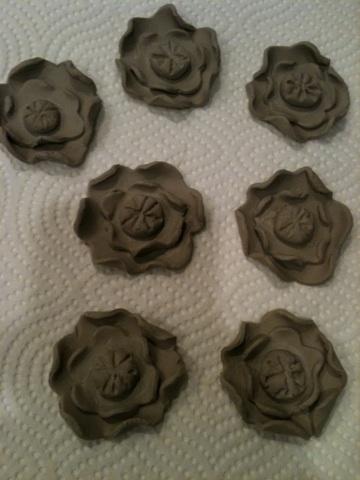 I've just prepared these, and now in their greenware state that have to dry out for about 12 hours, to then re refined further and then dried for a further 7 or so days. They are the next design in the
UK STampers
Round Button theme Swap that I am working on.
My desk looks like this: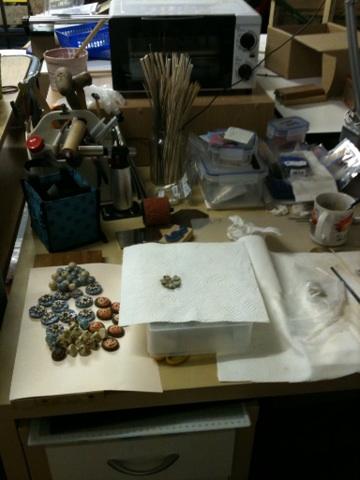 to the left is the glazing mentioned in last week's WOYWW (scroll down a couple of posts to see close-ups of it.
The small grey blob of top of the plastic box next to that pile is this: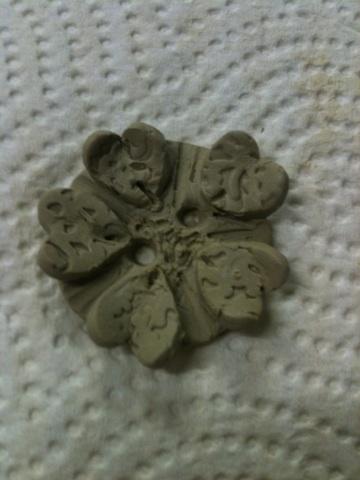 the fourth design in the swap ... again, it's in the greenware stage and is a test one. I need to make sure that I cut out all of the little hearts and try and line them up better with the actual ones for the swaps - this was just to formulate what I had in my head! I am sure they will look awesome when glazed though. Just two more designs (1 with holes and 1 without) to go. I also have to finish off the Artisan Whimsy "Location" challenge, but I need some silver wire, which is somewhere between Birmingham and here at the moment (it should show up tomorrow with any luck).
The one thing I forgot to share with you was my new Bench Peg & Anvil, but it can wait ... in any event Guy needs to saw a "V" shape in the peg for me.
There are some lovely desks to nose around over a
t Fair Queen Julia's,
grab a coffee and check 'em out.
Hugs
Kay