I'm finally ready to add some of these to the Stamp Galaxy inventory.................
The Fairy Small Bead Caps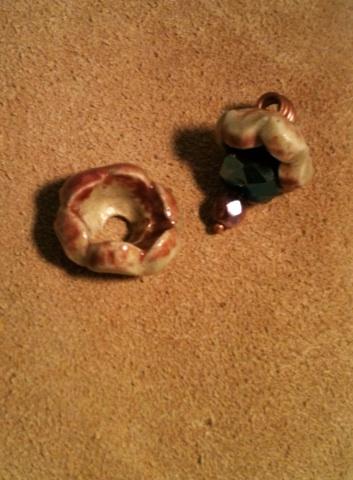 Here you can see the bead cap on its own ... which is how they come ... and one that I have teamed with a handmade copper balled head pin and a small pink crystal. Instead of turning a loop at the top (or doing a wire wrap) I turned the wire down as a spiral.
This colour Bead Cap is Olive with Peony Red Picotee edging. There is also a small amount of the Peony Red Picotee around the hole at the top for added interest.
At the moment this is the only colour on offer, but there are more ready to go in the kiln for a Bisque firing so it won't be long.
For anyone who doesn't know they are hand made by me with Earthenware clay, left to dry completely for about a week, they are then further refined, and Bisque fired in my kiln at around 900 degrees. Then they have several layers of glaze added to them and are fired again at a much hotter temperature.
Next on offer are the
Dogwood Violet Beads

: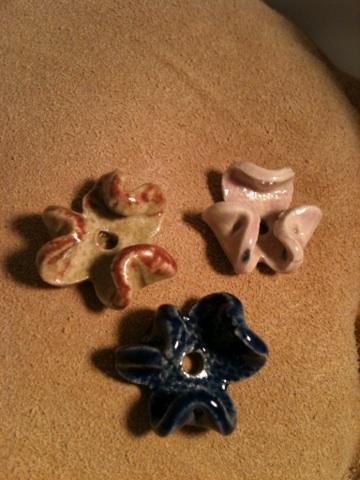 Again, made from Earthenware clay by me, cut, shaped, drying and refined, then Bisque fired. There are a few more of these and the glaze choices are Starry Starry Night (Front), Olive with Peony Red Pico (top left) and Cranberry Frost (top right). The Starry Starry Night is a lovely deep blue glaze which is very glossy, but the other other two also had a further coat of clear glossy glaze applied to them before the final firing.
There are lots of lovely other colours coming in these designs. Here's how some of mine loop for the project I am currently working on:
Again, I've used the handmade copper balled head pins, then added a small pearl, the Dogwood Violet Bead, a large silver space bead, a green glass Czech and a further small white pearl, then coiled the head pin down to give the look of a vine.
Happy crafting.
Hugs
Kay