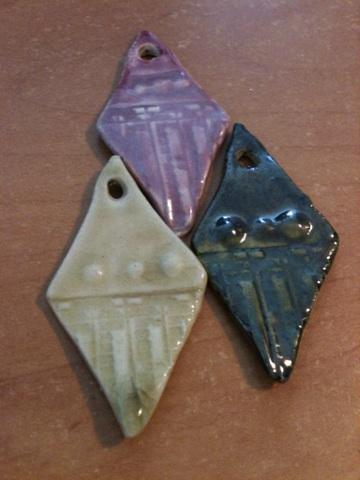 I am really pleased how the glaze tiles came out. They are rough and ready, but that was the point ... only I will see them, and it gives me an indication of what the glazes are like. The glaze was painted all over, and then just the bottom bit up to the dots has clear gloss glaze added to indicate the difference. I then wrote the gloss code on the back with a brown glaze pencil.
The idea is that I can string them all together and check them when I choose glaze colours in future. I need to work on some more for the other glazes ... oh, and I need more glazes too~!!
The reason I stamped into the bottom, and then slipped trailed on the dots, was to get an idea how the glaze might pool when fired.
For my own notes, my glaze sequence was 0.00/350/650/550/1050 for 40 - that would only mean something to somebody that is used to ramp settings etc. I guess, but to briefly explain for anybody who is interested: 0.00 is the delay before the sequence starts; 350 degress per hour 650 is reached, which is the first ramp, then 550 degrees to 1050 that is the second ramp; and then hold for 40 minutes at 1050 degrees. Obviously if I used another clay (this one is a low fire Earthenware) that would change. When I first started I used to be really confused about setting ramps and holds etc., but now I'm perfectly happy with it.
Happy Thursday all.
Hugs
Kay
xoxo