with my Big Girl's Torch .... Guy got it up and running over Christmas for me, and so I thought I would take my courage in both hands (only needed when you first start playing, after a few torch sessions it's fine), and fire her up.
Voila: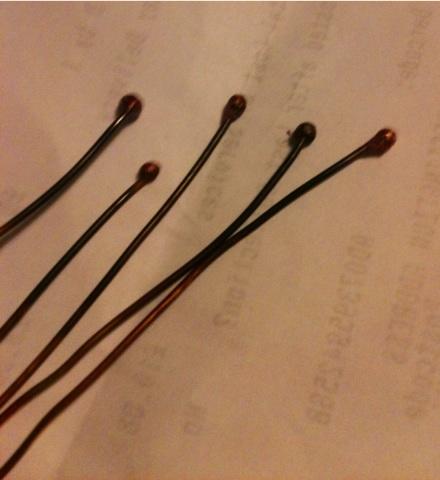 some balled copper headpins - they are different colours as I used a Dark Pink enamel and a grey, and one is left in just the balled copper state.
I've just had a discussion with Guy about whether I should have pickled before I enamelled, we are not sure! I will try in the pickle tomorrow and see how that effects the enamel ..... our discussion went along the lines of well if you pickle, then fire scale will come off, but so might the enamel, and then I will get more firescale when I enamel ... so watch this space if you can contain your excitement for the answer on that one.
I might try to heat some more copper, and before it balls dip in enamel and see what that gets me .... ohhhhhh I lead an exciting life!!!!
I forgot to mention that I used my new yellow liquid flux (can't for the life of me remember what it's called, but it's for silver and cost a bazillion pounds for not an overly large bottle of the stuff - it's great to work with though.
Happy Sunday, we are back into daily routine from tomorrow as Toodles is back at School and I'm back in the office/workshop.
Laters peeps.
Hugs
Kay