still look on the bright side the mornings' are getting a little lighter! Spring is on the way.
A lot has been happening on the ol' desk this week.
Yesterday I managed to achieve a very nearly full board, which was my target for the day: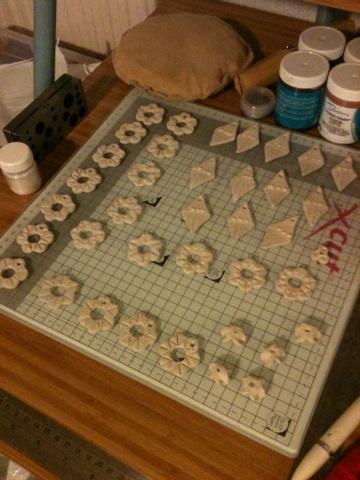 My description for the photo on Twitter reads "nearly dull board", and I suppose that is partially right, leatherhard clay is a bit dull.
This is the "clay" desk after my playing session yesterday: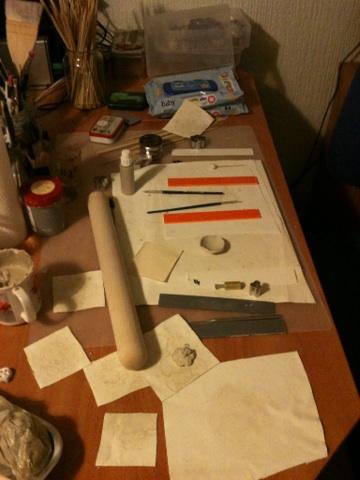 You can just make out one loan pendant nearest the camera, and that funny looking bit of clay near the orange spacer bars is actually a flying saucer shaped piece. Reason? Well, when I was making a pendant the other day (can't share it yet, as it is for a Challenge Reveal on 12th January), I found that it kept collapsing on my whilst adding the petals (see, now you've made me say too much!). So, my thinking behind the desk is that once bisque fired I can use it to slump ...... oh get me with my technical term ... the base clay over and then it will support the whole thing and I can build my petals from there.
However, when it was drying on the end of the rolling pin yesterday afternoon, I was studying it and realised it would also make a sweet little ring bowl .... so dilemma time, use this one as a ring bowl or fire this one and make another for my slump piece?
This morning I will mostly be doing more of the handmade balled copper head pins, which will be for sale probably tomorrow at
Stamp Galaxy
.
Oh, and Toodles & Binks are now on Facebook ... so please come over and like us
HERE
. Worth doing, as going forward there will be some nice giveaways and Facebook type offers, plus I would really love to reach a target of 200 Followers this month if I can.
It's not going to be all about Ceramics around here ... I am going to have a go at doing some Copper Etching this month and also we are working on some new stamps.
Right, before I go off to do the school run, I need to hop over to
Fair Queen Julia's
and have a look around all the inspiring WOYWW spaces.
Hugs
Kay