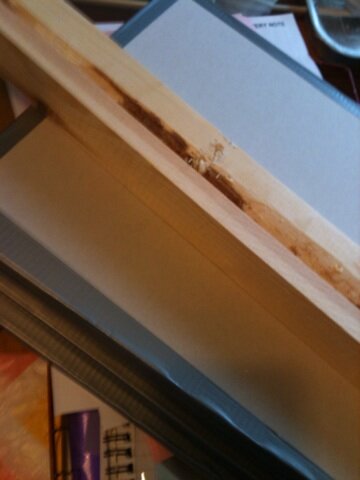 I've posted to date. Can you tell what it is?
Boards my dears is what it is ... and a couple of wannabe spacer bars.
The grey rectangles with darker grey edges are plasterboard, and has some Duck Tape around them to stop the insides escaping. There are also two pieces of wood for Guy to cut down for some larger spacers for me.
Why do I want/need plasterboard edge with Duck Tape? Surely now I have confirmed I am as mad as a mad cow can get ....... well, the porcelain to help with the warping. Plasterboard sucks out the water from it, and helps with it's clay memory (which is worse than Earthenware apparently).
Other weird things on my desk this morning:
a washing liquid top full of white powder ......... cornflower.
a glass jar with shredded toilet paper (unused of course) .......... ready to make porcelain slip
a plastic paint tray (the ones with the wells) ........... turn upside down, brush on cornflower and then drape over circles of clay
an empty glass jar ......... a replacement brush washer'uper, the other one needs to be left to settle up before I pour off the water and safely dispose of the powder when dry.
an empty parsley jar ......... to hold the Nichrome loops of the larger variety (I need more Altoid tins, so this will do for now).
Ready, steady create..............
Happy Sunday.
Hugs
Kay