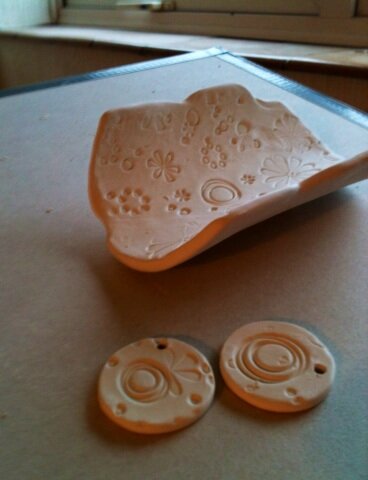 Not that you can see from the angle that I've taken the photo, but it now has a little rectangular foot on the bottom, and sits quite nicely. I prefer it that way, as to glaze it without the foot would have meant using stilts, which means that a little dimple would have been left on the bottom. This way the bottom of the foot can be left unglazed.
Below them are two little pendants I made last night - there were three, but I dropped a tool on one and it broke in half, so that's gone in the slip pot.
It's snowing here, but not badly enough to stop me walking the Hound ... so that's where I'm headed now, and then when I get back and drink a glass of liquid sunshine (hot Elderflower Cordial) I am going to start on making another bowl (I have 7 more to do).
Happy Monday Peeps.
Hugs
Kay