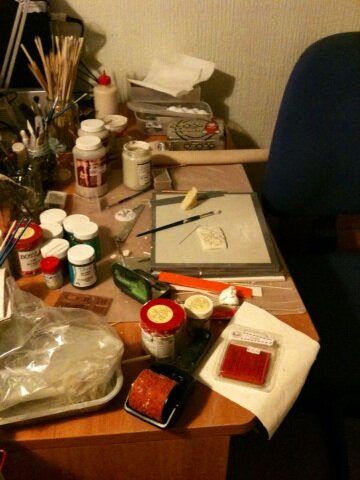 this looks bad .... but the rest of the studio looks are terrible mess .... and I've just been told off by the Rubbah Elf about it.
I need to tidy later on I am guessing.
My desk on this dark and horrible Wednesday is so, the grey rectangle you can see centre stage on it has another grey rectangle upon it, which is this:
or it was like that, but it actually looks a bit smoother and refined now, as I did a bit more carving on it late last night. What is it? I hear you ask ........ it's a texture plate for using on clay designs. I need to finish it off and then bisque fire it, and then it can be pressed into other things of clay, the lines, dots etc., that go in will be embossed when I do that - golden rule when making a texture plate to use "what goes inwards, will come outwards".
Once I'm finished carving it I will smooth off any unwanted high points with a web sponge and tidy up the edges of the lines. I am super pleased with myself.
Today, I will be refining the Lentil Beads:
these were the halves, that have now been slipped together, and tiny coils of clay added to keep the memory from taking over and splitting them apart again - well that is the theory. I've never made them before.
The moisture in them should have equalised today, and I need to give them a sanding around the seams and refine the holes.
Sorry, more clay stuff on my desk this week, but that does include stamping as the designs on the lentils were stamped on.
For lots of mega interesting desks please grab a coffee and hop off over to
Fair Queen Julia's
for a lookie around the crafting kingdom.
Hugs
Kay
xoxox