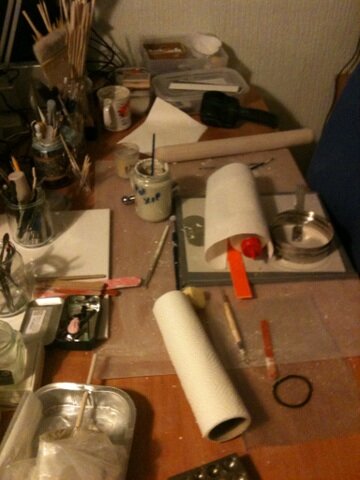 The aftermath of playing with clay .... I need to clear this up pretty gosh darn quick actually ... it seems to bother me much more than actual papercrafting mess.
Also, last night Guy cut me a large piece of plasterboard to cover the majority of my working space, as I am finding that the smaller squares are a bit too small to work on .... but they are perfect for drying off work: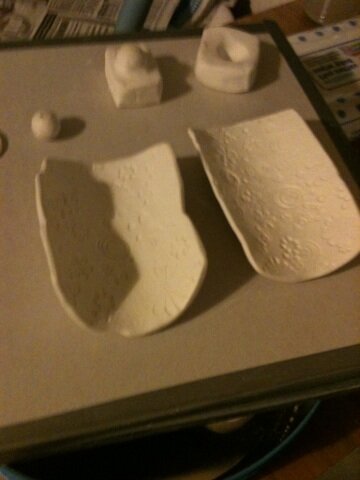 two bowls of differing shapes drying, as well as a bead, and the strange looking things towards the back are/or will be when fired, a bead measuring gauge (that's the one with the well) and a lentil forming slump mold (which isn't so successful, as I think that the half round sticking out is a bit too pronounced and I haven't left enough flat edge around it - it's all suck it and see anyway it was just an idea I had floating around in my head).
As you can see (sorry about the absolutely awful photo, it is pitch here) the two dishes have different amounts of curve on them. The left hand one is more upright ... actually I like this one better ... and the righthand one is much flatter ... that was dried over the bottle with the red nozzle covered in paper in the top photo. I also haven't carved folds out of the righthand one and it has quite a flat edge profile (which I am not sure I like so much .... I might try another one and carve the same wavy edge in it to see how that looks. Any opinions on which one you prefer? I know it's difficult to say when they are just unfired and white.
If you want to see lots more super crafty spaces grab a coffee and head off to
Fair Queen Julia's
for a snoop.
Hugs
Kay