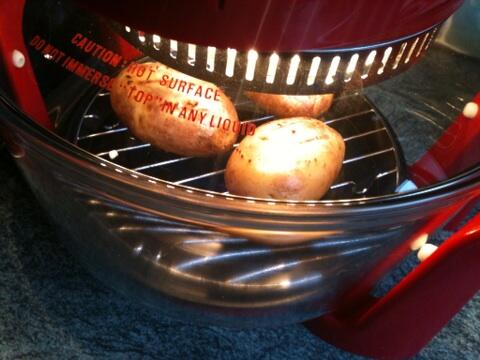 Our oven packed up at the weekend right in the middle of a roast dinner, and the Repair Chap only managed to come out today - it needs a new thermostat and so it will be a good while before it's fixed.
So in the interim we ordered a lovely Andrew James Halogen Oven, which arrived late yesterday.
Only just go around to unpacking it, and decided that Jacket Potatoes is a good test.
30 minutes at 200 in their and they are lovely and crispy on the outside and fluffy in the middle.
I've popped mine back for a bit as it was a little bigger and still a little too hard in a couple of spots.
They smell delicious, and apparently Lydia says it taste fabulous.
We've been so busy with life and the sale at Stamp Galaxy, that I haven't been on here much, but I will rectify that shortly as I have lots of things I need to get done in the way of craft and ceramics.
Hugs
Kay